Hello!
If you have been to my home, you would know that I'm an avid re-inventor decorator! Almost every piece of furniture in my home had a previous life and story. It gives me such joy to work the old things in with all of their imperfections and flaws.
One of my favorite pieces takes center stage in my kitchen/family room. When making plans for the remodeling of our current home, my husband expressed his interest in getting a larger television set. Since the larger size wouldn't fit into our existing television cabinet, he wanted to mount the new television on the wall. If you know me, you know that this sort of thing is NOT my traditional aesthetic! :)
So, it was time to get creative and find a resolution that would keep us both happy! Shortly after the search began, I located the perfect piece for the foundation of a design that had been developing in my mind's eye. The shopkeeper at the antique store told me she had purchased the large buffet in France at an estate sale and it was most likely from the 1960s. The dimensions were perfect, and I swooned over its curvy French legs, beautiful carvings and parquet-style top. The bonus was that it would give us lots of storage. It was perfect and the fact that it was French, well, that was the "le cerise sur le gateau", or the icing on the cake for a Francophile like myself!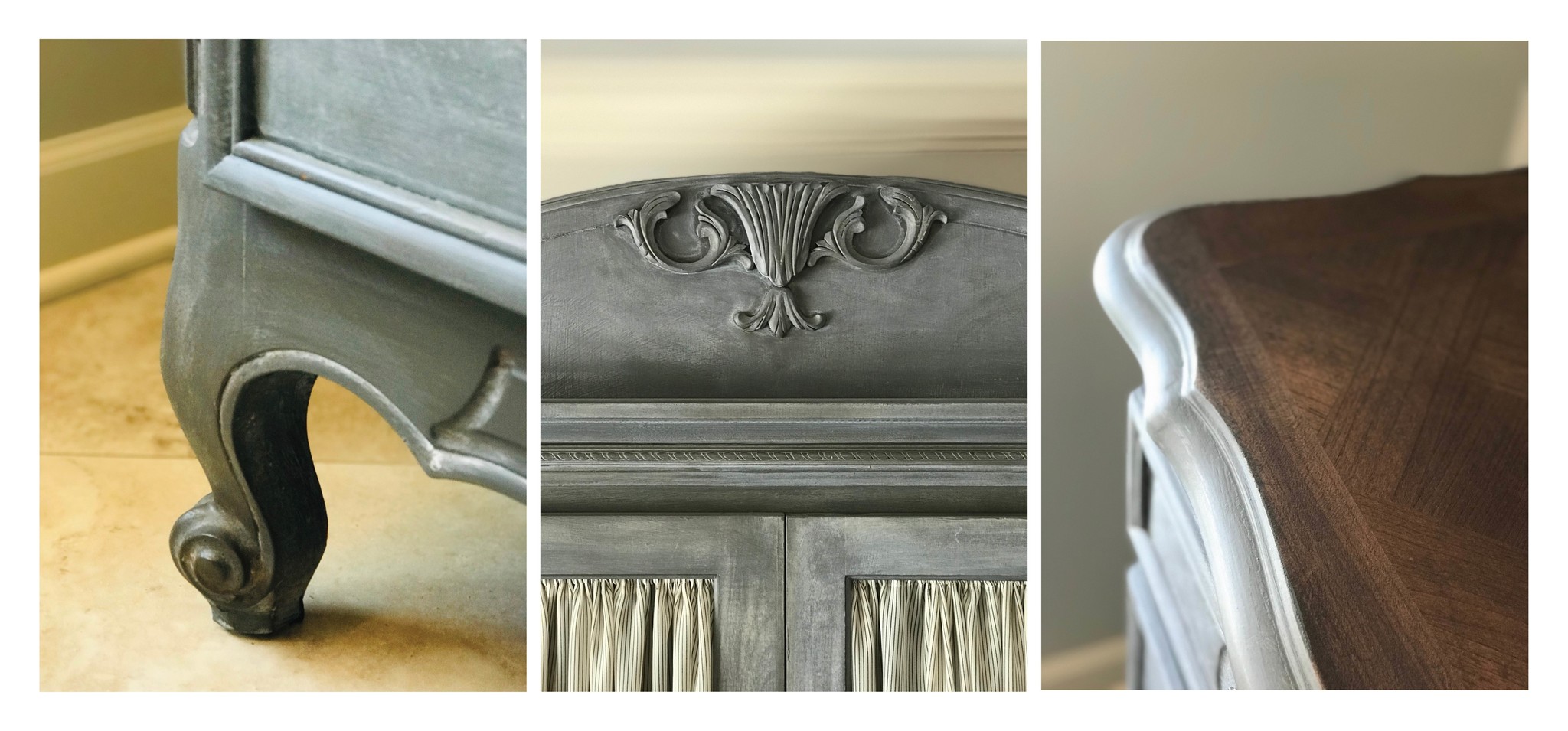 Now for the next piece of the puzzle... I met with our kitchen cabinet maker and asked him to make a cabinet top to fit the dimensions of our new television with doors that would fold completely back so as not to obstruct the views from other parts of the room. When he asked how I imagined the top of the cabinet to be, something I had been saving for some time immediately came to mind; my dad's headboard.
Before my dad passed away, we moved his bedroom from the upstairs of my childhood home to the downstairs area, so that he wouldn't have to navigate the steep steps. After his passing, I asked to keep the headboard from his bed. I didn't know what I would do with it, but it made me think of him and I hoped to find a use for it someday. Finally, I found its purpose – it was truly a match made in heaven! The carvings on the headboard were very similar to the buffet, and soon, under our cabinet makers deft hands, the rounded, curved top part of the headboard with the beautiful detail was cut down and modified to become the cartouche and the "piece de resistance" of my most favorite piece in our home. That old but sentimental piece of wood had a story and now it helps me tell my story too!
Since then, I have used this same design idea for several of my decorating clients.  As a huge proponent of the "use what you have" decorating style, it has proven to be a very useful solution several times. With the help of Chalk Paint® by Annie Sloan you can use several disparate pieces, (even some that were banished to the garage or storage shed), and marry them together with beautiful rich color to give them a whole new life.  A whole new story.  I kind of like that.
Happy Decorating!
~Jill
P.S.  Below are two projects for television armoires that I helped put together for decorating clients using their own pieces as a base.  A coat of Annie Sloan Chalk Paint® unified everything and made the old new again!