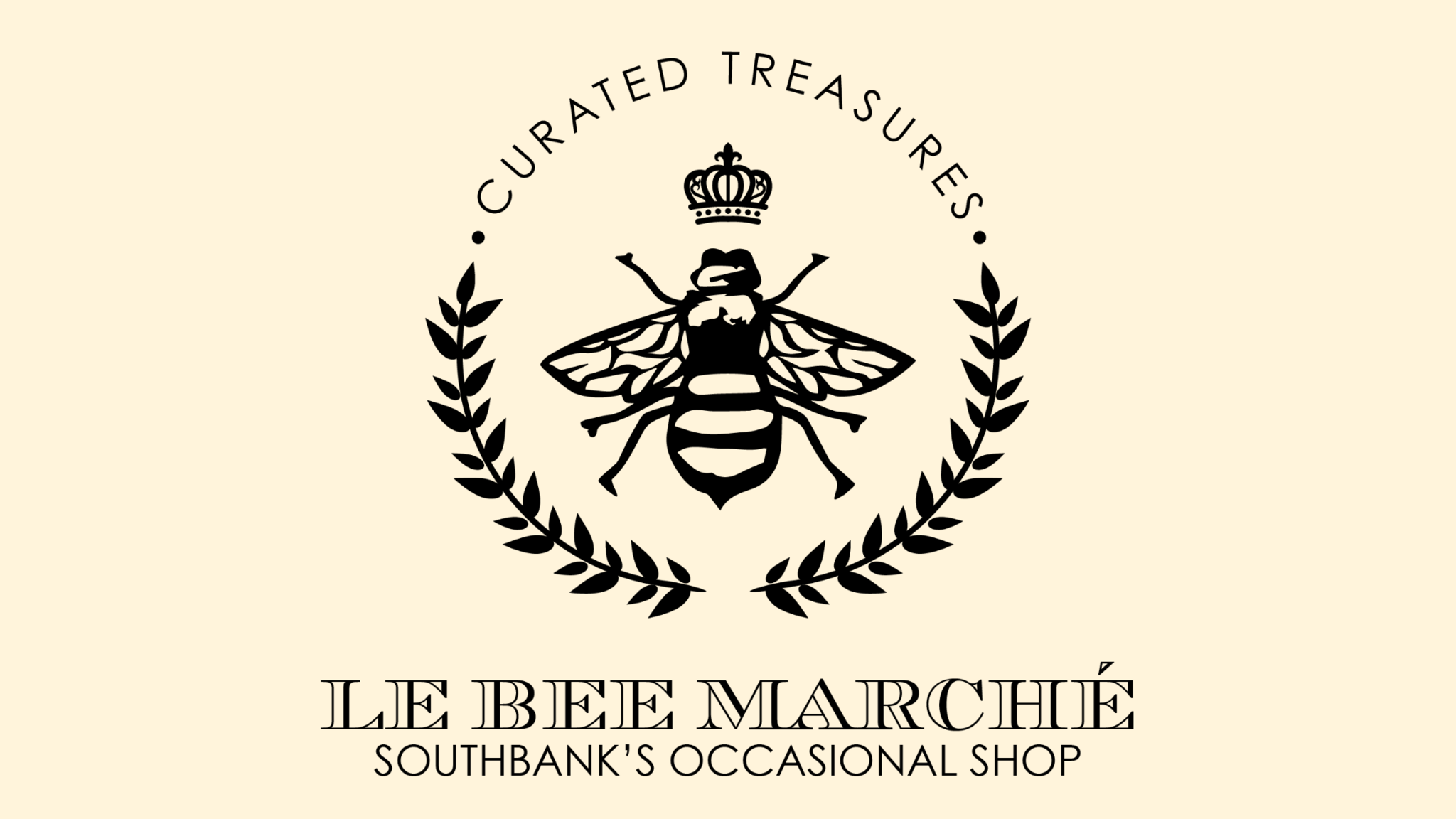 108 E. High Street, Jefferson City, MO 65101 (Next to Southbank)
Next Opening:
Friday, August 25 from 10 AM to 5 PM
Saturday, August 26 from 10 AM to 5 PM
Sunday, August 27 from 12 PM to 4 PM
**Open the fourth weekend of every month.**
Follow us on Social Media:
Instagram, @LeBeeMarche
Facebook, @LeBeeMarche
Our Story:
Le Bee Marché is the work of my life.
A culmination of all my favorite things in my favorite part of our city, downtown.
Before I knew what the word curate meant, I had already begun.
At 11, I inherited my brother Jeff's collection and it stirred something in me. Not only the stamps but the postmarks themselves which echoed stories from around the globe. Stories I may not have known but could imagine. Letters passing between family, friends, and lovers with Queen Elizabeth's' elegant profile marking their path.
I loved the ritual of boiling the stamps to free them from their envelopes and then, organizing them to tell a story.
They say you know what you want to be from a young age. Clearly, collecting and curating was meant to be part of my life, and this budding passion was encouraged at home.
My Mother had perfected the concept of what we now call zero-waste – repurposing and refinishing. In her hands, it was an art form requiring vision, skill, and creativity, and it was also a necessity growing up in a big family with little money to spare.
By the time, I lived on my own in my 20s, I had learned - just as my mother did - that necessity could fuel creativity. Back then, I wasn't sure what my style was but I decorated with whatever I could find and afford, from bowling balls and tapestries to painted furniture and flea market finds. I discovered that I loved old things; flawed things; and things that had another life to live.
Along the way, these are the same things that taught me about craftswomanship, art, architecture, color, décor, fabrics, culture, and so much more. These things also taught me that I didn't need money to appreciate things of beauty, charm, and history.
As Southbank Gift Company evolved, I met people like Annie Sloan who further expanded my idea of what could be recreated from what already exists. In the summer of 2017, a dream-come-true invitation to join her studio workshop in Oxford, England crystallized all my passions. Even beyond the joy of the workshop itself, I was intoxicated by the sights, the vignettes, the vistas, and the romance of the details. Everything old was new again. The "artist" words I had learned like patina and objet d'art came to life in front of me.
There, shopkeeping is an old-world art form not simply commerce. From that, an expanded vision for Southbank Gift Company - using what I've been collecting and reimagining for years - was born. When I came home, I made small changes to the store that reflected my summer in Oxford, e.g., a new flower garland entrance, as my idea marinated.
Then, the space next door opened up.
I remembered that in The Alchemist, one of my favorite books, the hero discovers that "When you want something, all the universe conspires in helping you to achieve it."
And sure enough, it is that space next door where my idea is coming to life. We have spent hours painting, reimagining, reorganizing, and restoring.
And without further ado, I'm so pleased to invite you to experience Le Bee Marché, my vision for another chapter of the Southbank Gift Company story.
---