Hello!
I hope you all had an enjoyable Easter with your families! Sheltering in place made the celebration itself a very different one, but it was so wonderful to cook together, break bread together, and then to relax and talk without the pressure of having someplace else to go. My daughter and my sister-in-law, who both live in New York City, are here and we were so grateful for their ability to be with us to celebrate! For the past couple of years, we have celebrated with good friends at their home and this year, thanks to the miracles of Zoom, we were able to video chat with them as well!   
I have always loved setting the table and trying different combinations to "paint" the table top picture. I started my table top décor with a leaf placemat – they are beautiful shades of green, and everything looks good sitting on them. Next, I added a white scallop-edged wood charger to each setting. For the dinner plates I chose my favorite black and white checked plates.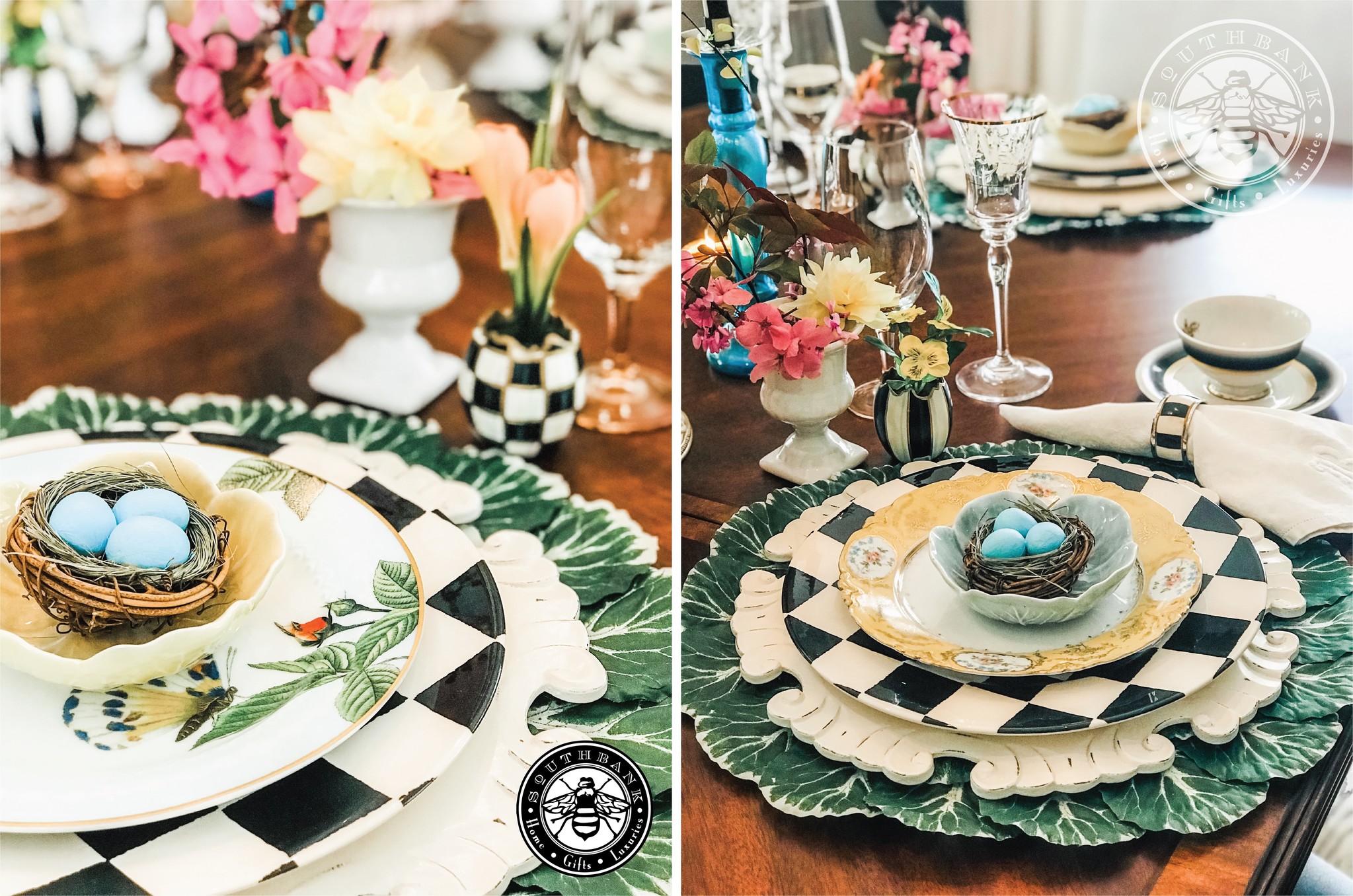 Next was the salad plates – we weren't actually having a salad this year but using the plates kept the food on our brunch menu a bit more separated. My daughter made her favorite, and very delicious, Blueberry Brioche French Toast, and keeping the sweet syrup off of the scrambled eggs is high on the priority list in my house! (Recipe to follow).  The smaller salad plates are always my favorite layer in a table setting because they are the piece with the most personality. I have several different sets of salad plate patterns, including floral, leopard, checks, and assorted borders. I used two different salad plate patterns because I love the charm of using mixed patterns.  I topped off my table setting with two different colors of mini bowls for the first course – a fruit salad.
For special occasions I enjoy using cloth napkins like these simple white initialed ones I found at a local estate sale. Using place cards is also a tradition in our house – it's easy to do and makes everyone feel special and welcome. We have a box of place cards we've used in past celebratory meals, and it's a trip down memory lane, sometimes bittersweet, to see a loved one's name in the box.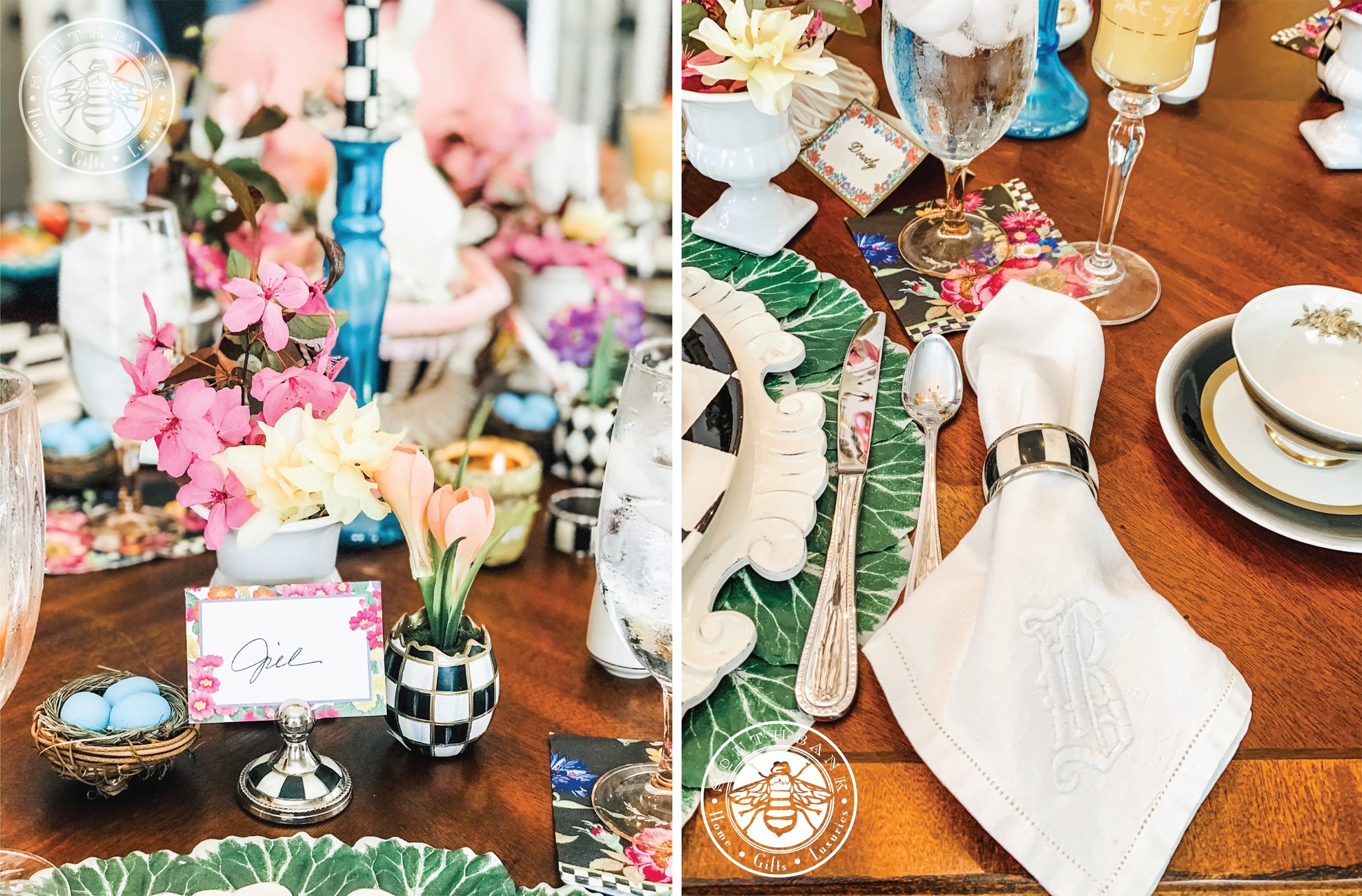 The weather this weekend allowed for a small bouquet of a few blooms from the yard.  A mixture of Red Bud blooms, a few lingering Daffodils, and some Flowering Crab Apple Tree Blossoms were the perfect touch.  I added some darling black and white MacKenzie-Childs Courtly Check Easter Egg Bouquets to tie in the checks from the dinner plate.
I found the perfect place to add a little more color by hanging festive and colorful capiz shell MacKenzie -Childs brightly colored eggs from the bottom of the chandelier. They came with a string so I used small pieces of wire and shaped them into an S shape for easy hanging. (Christmas hooks would have been equally effective but I wasn't quite ready to dig through Christmas decorations).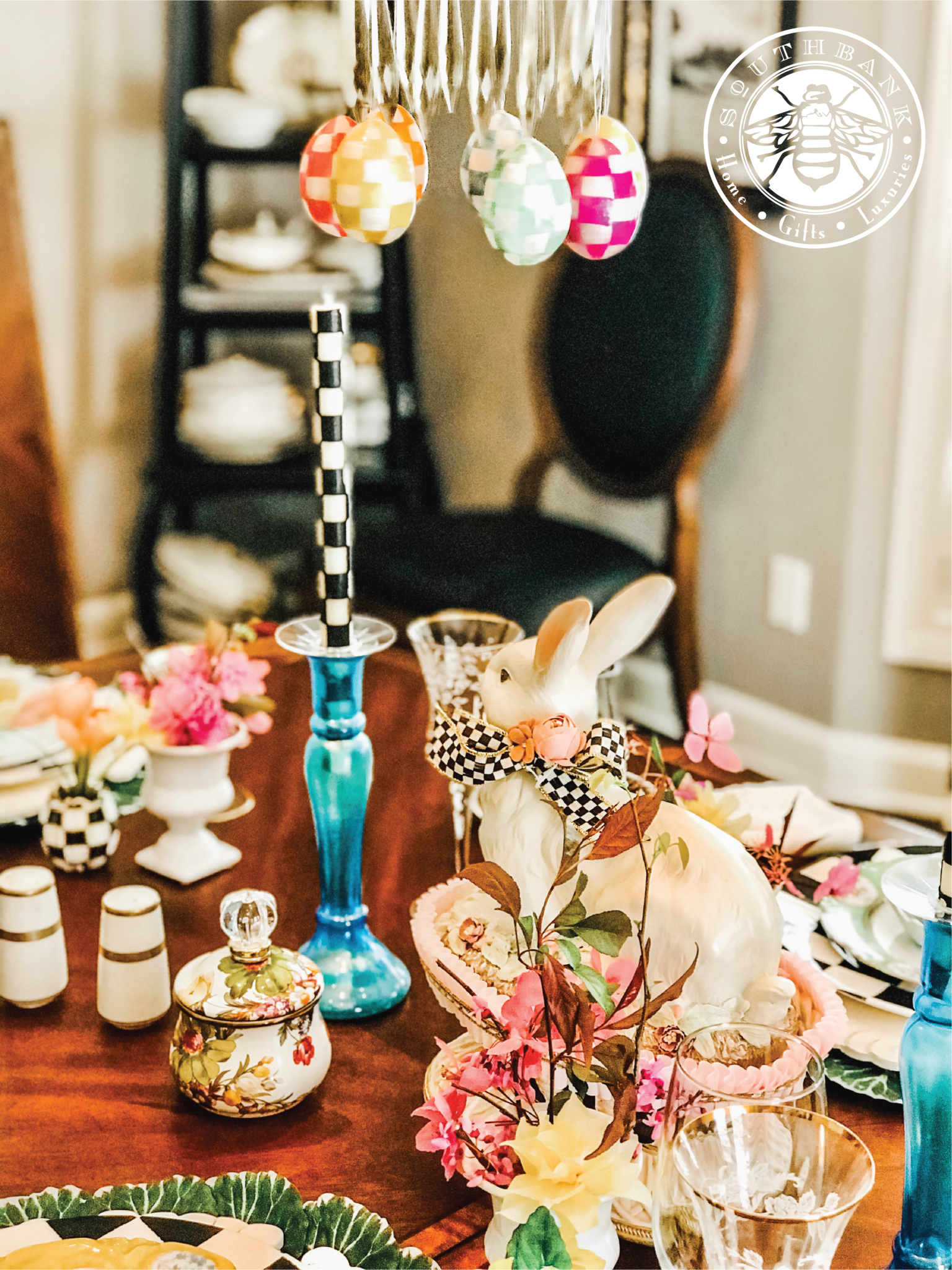 The centerpiece was a beautiful two-piece MacKenzie-Childs Macaron Bunny Basket flanked by antique turquoise colored blue glass candlesticks and MacKenzie-Childs taper candles.  We lit the candles and enjoyed the extra sparkle they provided, even though having them during daytime affairs isn't considered appropriate.  Being safe, healthy, and together is cause for celebrating and for breaking the rules a bit I think!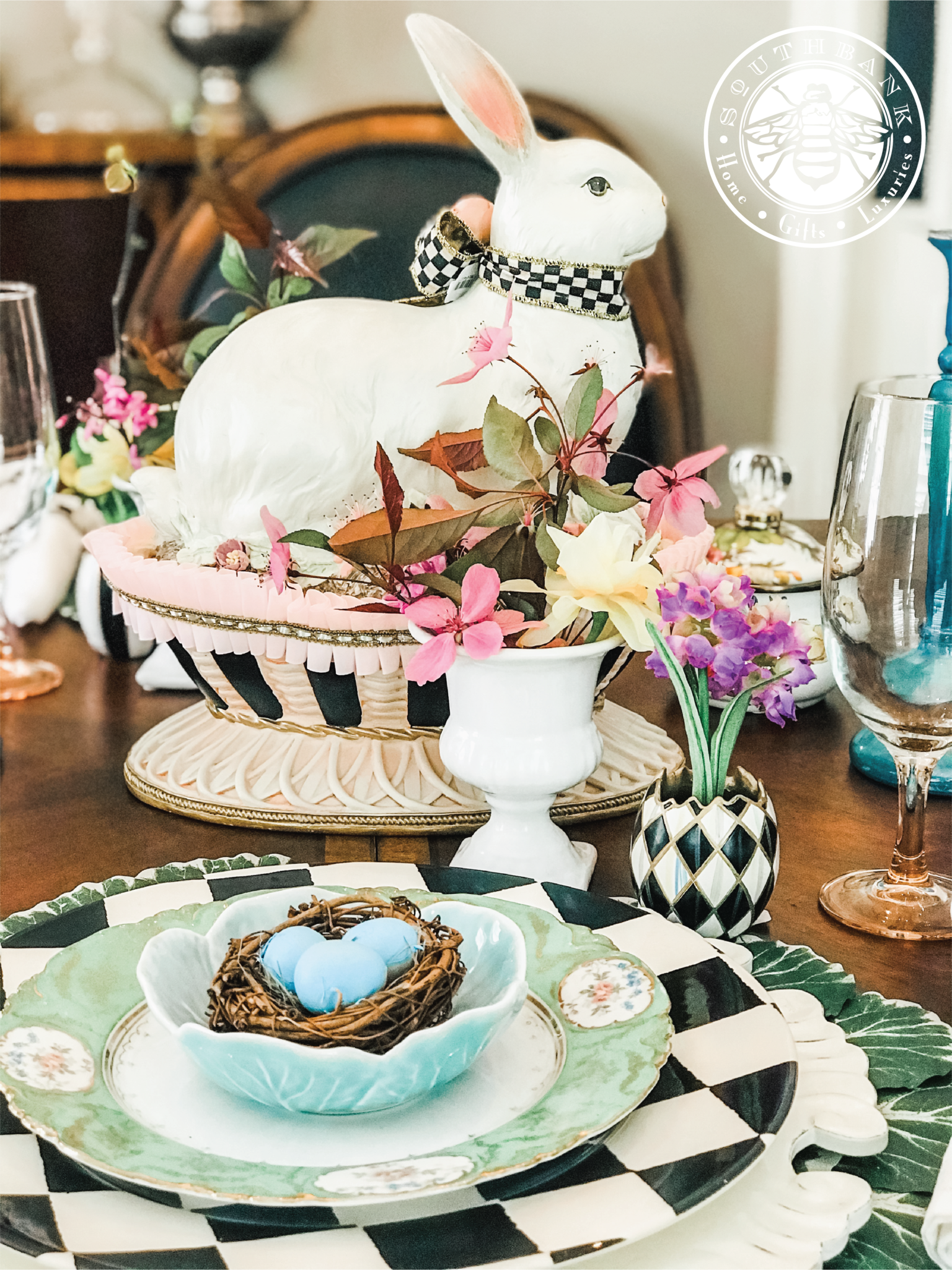 ---
How to make Blueberry French Toast:
Cut bread into 1-inch cubes and add them into a baking dish.
Sprinkle blueberries on top.
Mix together eggs, milk, melted butter, cinnamon, vanilla, sugar and salt.
Pour the mixture evenly over the cubed bread and blueberries.
Bake for 35-40 minutes.
Remove from the oven and cool for 5 minutes.
You can assemble everything the night before and bake the French toast breakfast casserole the next morning!
What kind of bread to use for french toast casserole: 
Since the bread is the base of this overnight French toast, it's important to use high quality bread that can stand up well and doesn't get mushy! Bread such as brioche (my daughter's favorite), challah, French loaf and sourdough works well for this recipe. 
What to make ahead for the french toast casserole:
Although you can bake it right away, you can cover tightly with plastic wrap and refrigerate overnight. The bread cube will soak up the mixture, resulting a more custardy and delicious blueberry breakfast casserole! 
Overnight french toast baked in oven:
Heat the oven to 350°F. If you bake it immediately after assembling them, it will take about 35-45 minutes. If you leave it overnight in the refrigerator and bake it the next morning, you need to bake it for about 40-50 minutes until the center is firm and surface is lightly brown. 
Blueberry French toast casserole can be served warm or at room temperature. For leftovers, you can cover it tightly and store it in your refrigerator for up to 3 days. You can also freeze your French toast casserole for up to 3 months.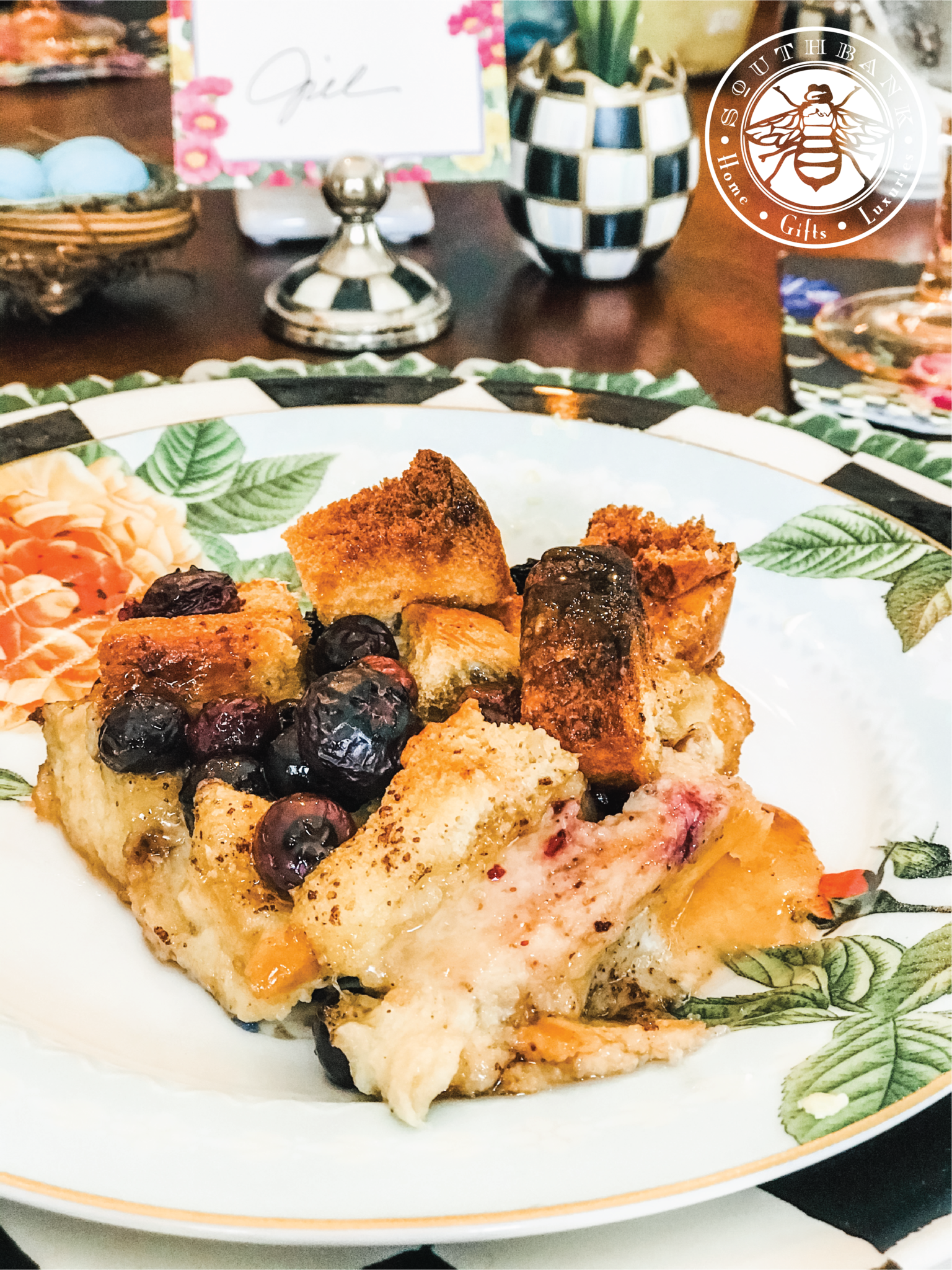 Blueberry French Toast Bake - Recipe 
Blueberry French Toast Bake is French toast baked with blueberries and creamy cinnamon vanilla custard mixture. Great with or without cream cheese!
Prep Time: 15 minutes
Cook Time: 1 hour
Total Time: 1 hour 15 minutes
Servings: 9 servings
Ingredients for Blueberry French Toast Casserole:
1 large loaf brioche, French loaf, etc. Cubed, about 10 cups
2 ½ cups blueberries fresh or frozen
5 large eggs lightly beaten
2 cups whole milk
1/2 granulated sugar
1 teaspoon vanilla extract
½ teaspoon ground cinnamon
¼ cup unsalted butter melted
pinch salt
Optional Toppings for Serving:
powdered sugar
vanilla ice cream
maple syrup or caramel sauce
Instructions:
Preheat oven to 350°F (175°C). Grease a 13X9 inch baking dish and set aside.
On a cutting board, cut bread into 1-inch cubes.
Add bread cubes into prepared baking dish and sprinkle blueberries evenly across the top.
In a medium bowl whisk together eggs, milk, melted butter, cinnamon, vanilla, sugar and salt.
Pour the mixture evenly over the cubed bread and blueberries.
(If bake immediately) Bake for 35-40 minutes or until a knife inserted in the center comes out clean.
(If make ahead the night before) Bake for 40-50 minutes.
Remove from the oven set aside to cool for 5 minutes.
Dust with powdered sugar. Optional: Drizzle with warm Maple Syrup, or Serve with ice cream and drizzle with caramel sauce
Print Blueberry French Toast Bake - Recipe 
Shop Mackenzie-Childs Easter - On Sale Now!
Egg-citing Tablescape Ideas - Pinterest